VITICULTURE
Ukraine is also a wine-developing country in its middle zone: the Crimean peninsula and Southern regions of the country. The heart of production is located unconditionally in Crimea with its wine-making traditions going back to 6th century before J.C.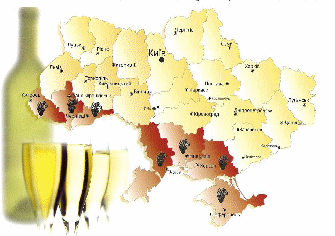 Main red grape varieties in Ukraine are: CABERNET SAUVIGNON, MERLOT, PINOT NOIR, CABERNET FRANC, ISABELLE, SAPERAVI.
Main white grape varieties in Ukraine are: CHARDONNAY, SAUVIGNON, RIESLING, MUSCAT, ALIGOTE, PINOT BLANC.
Original grape varieties are: GRETCHESKIY ROZOVIY, TELTI KURUK, ODESSKIY TCHERNIY.
Today Ukraine produces on average 200 millions of liters of wine per year with constant increase. Yet quite unknown in the world, Ukrainian wine is commercialized on local market and 10% of the total production are exported.
Nevertheless growing reputation of some Ukrainian caves such as CHABO, MASSANDRA, NOVIY SVET, FRANTSOUZSKIY BOULEVARD, VINS DE GOULIEV predicts dynamic development of this sector.
France remains the 1st wine-maker in Europe and 3rd agricultural and agro-industrial exporter in the world. Moreover, French wine-making sector has an outstanding reputation in Ukraine due to diversity and quality of its products, and the market of French spirits in this country is expanding. Victims of their success, some French appellations have been even usurped by local producers, e.g. «koniaks» or «champanskoie». Consequently several improvements must be underlined in Ukraine in the matter of wine-making:
Import of French viticulture products
Performance of wine-making machinery
Extended range of treatment products
Transfer of technologies and technical audits (crop management, wine-making technics, etc.)
Buyout of local wineries by French wine-making groups